Roadtrips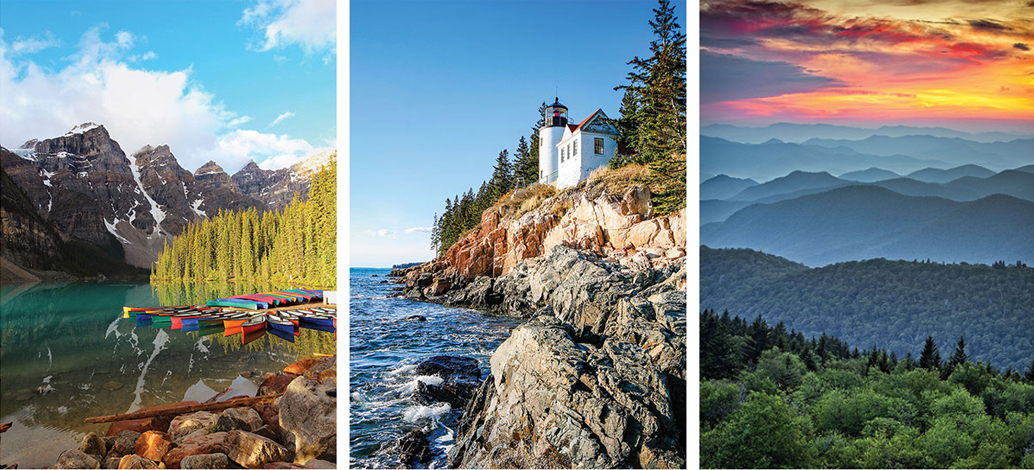 The Blue Ridge Parkway ­– Asheville to Charlottesville
The heart of this storied road takes you through Southern farmland and misty ridgelines that give the region its colorful name. Pace out the 400-odd miles of winding two-lane over the course of three or four days. The parkway itself starts at the base of the Great Smoky Mountains and meanders through several national forests on the way to the Shenandoah Valley. Musts along the way: Mast General Store in Valle Crucis is one of America's oldest. Grandfather Mountain nature preserve has a swinging footbridge over an 80-foot chasm. Chimney Rock near Asheville is an energetic climb that pays off with some of the parkway's best views.
New England ­– Boston to Bar Harbor
Despite the down-easter saying, it turns out you can get there from here. This Mass-to-Maine classic is dotted with small-town main streets and roadside lobster and clam shacks. Zip up I-95 to Portsmouth, New Hampshire, then switch to U.S. 1 for the slower scenic route. Pull over for a nature walk among cottontails and piping plovers in Rachel Carson National Wildlife Refuge. Nearby Kennebunk is the village of boutiques, galleries, and ice cream shops you came to New England to find, while Portland's microbrew and artisan coffee scenes make for a great overnight or two. Need some duck boots at 3 a.m.? L.L.Bean's Freeport flagship has outfitted locals 24/7, 365 days a year, since 1951. (The store currently closes at 8 p.m. due to Covid-19, but plans to resume 24/7 hours soon.) Put them to use around Bar Harbor, where the drive becomes a nature tour on 27 miles of historic roads through Acadia National Park.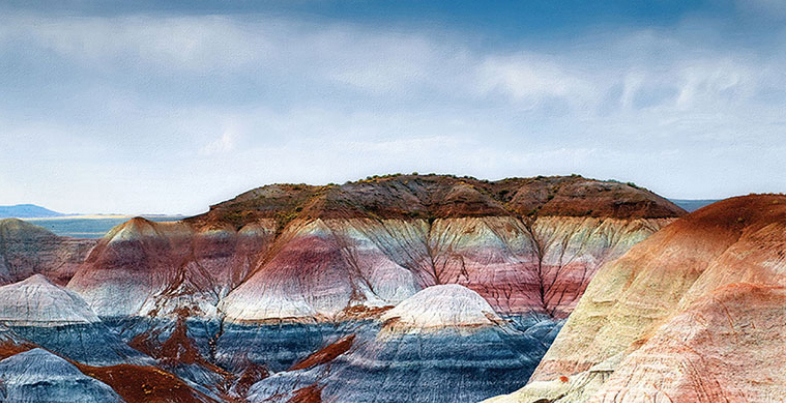 Four Corners and Monument Valley – Flagstaff to Telluride
Sure, the photo op is kitschy: you with a goofy grin at the point on the map where Colorado, New Mexico, Arizona, and Utah intersect. But the journey is the actual draw. The 525-mile drive rolls through lyrical Winslow, Arizona, into Petrified Forest National Park and the Technicolor hues of the Painted Desert. Highway 191 is the best way to take in Navajo country; Indigenous communities have called Canyon de Chelly home for thousands of years. Monument Valley, on Highway 163 farther north, is your Butch Cassidy or Thelma & Louise moment (both movies filmed there). The atmosphere thins as you climb into Colorado, where Pueblo structures still stand along the Trail of the Ancients and mountain towns like Telluride make you realize that ski season might not be prime time here after all.
The Canadian Rockies – Vancouver to Banff
Whoever hatched the idea for driverless cars undoubtedly did it in this slice of western Canada, where it's almost impossible to keep your eyes on the road. Skip the more direct route of the Trans-Canada Highway, and head north to Whistler along the Sea to Sky Highway, which heightens the senses at every turn. You might spot a grizzly in Kamloops or maybe go winetasting (another case for autonomous driving). In winter, Revelstoke attracts extreme skiers, but summer and fall are all about strolling, mountain biking, and visiting the vintage railway museum. At Glacier National Park, Canada's second oldest, you can picnic beneath avalanche chutes (in summer and early fall only, of course) and hike on exposed ridgelines or through the world's only inland cedar rain forest. You'll know you're nearing Banff when you spot the turquoise, glacier-fed waters of Lake Louise.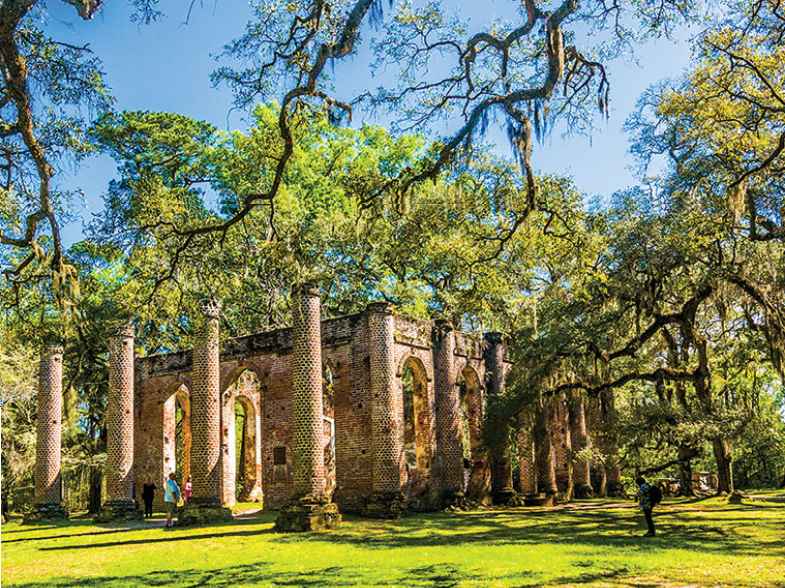 The Low Country – Savannah to Charleston
History, gardens, white-sand adventure, barbecue: There's much to discover among the palmetto- and Spanish-moss-lined roads linking these Southern sister cities. Take U.S. 17 out of Georgia's oldest town and feel the past emerge at Old Sheldon Church Ruins, a 1745 chapel burned during Revolutionary times and again during Sherman's March to the Sea. Pinckney Island National Wildlife Refuge's salt creeks and tidal marshes are worth exploring by kayak, while farther along, near Beaufort, stretch your legs (and views) with a climb to the top of Hunting Island's 1875 lighthouse. Trees have big personalities around here, and there's none greater than the Angel Oak, a 300-year-old live oak outside Charleston – a walker's kind of town with its grand old homes, historic row houses, and trendy shopping and dining scenes along Upper King Street.